Online Blackjack Games - Live Blackjack - Play for free
History of Blackjack
You'd be hard pressed to step into a casino just about anywhere and not find the extremely popular casino game Blackjack. That's because Blackjack is the most commonly played casino game in the world. The origins of Blackjack, however, are a bit murky, with some saying a variation of it originated in Spain in the 1600s. Titled Ventiuna (Spanish for "twenty-one"), the goal of this game was to get to 21 points without going over. (Sounds familiar?) Others say Blackjack came about in France in the 1700s with a game called Vingt-et-Un which, you guessed it, also means twenty-one. Whatever account is true, there is no denying that some form of Blackjack has been around for a long, long time.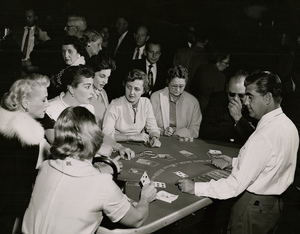 When gambling houses introduced Blackjack in the United States, they would try to entice punters with attractive bonus payouts. If a punter had in his hand an ace of spades and either a jack of spades or a jack of clubs (both black jacks, for the record), they could win bonuses as big as to ten-to-one. Over time, gambling houses stopped offering such massive payouts, but the catchy name "Blackjack" persisted. Fast forward to modern times, and the term "blackjack" signifies a hand consisting of an ace as well as a ten or face card—the only difference is that the suits and colours no longer matter.

The widespread, enduring popularity of Blackjack is no doubt linked to its simplicity. Unlike many other table games, Blackjack only requires a single deck, and it's extremely easy to learn. As a result, most people can pick up the basics of Blackjack in a single game or two. Becoming an expert in the game, however, is a whole different story.
Blackjack in Pop Culture
With its immense popularity, it's no surprise that Blackjack has ingrained itself firmly in pop culture. Appearing in movies since as far back as the early 1900s and stories much, much earlier than that, Blackjack can serve as a riveting theme to weave a plot around. Some notable film appearances in recent times times include Rainman (with Tom Cruise and Dustin Hoffman), The Hangover (Bradley Cooper, Ed Helms, Zach Galifianakis), and 21 (Jim Sturgess, Kevin Spacey, Laurence Fishburne). All of these films revolve around the idea of hitting the jackpot in Blackjack—and the great lengths that people will go to in order to beat the house. Well worth watching, if you haven't seen them already.
Contemporary Blackjack
In a traditional brick-and-mortar casino, Blackjack is played at a semicircular table with up to three players and a dealer. While gorgeous waitresses and waiters walk around serving cocktails and schmoozing with the patrons, a sense of excitement inevitably builds around a Blackjack table. The higher the stakes, the stronger the excitement, and the Blackjack played in a casino's VIP area can quickly reach a feverish pitch. It's not uncommon for high-rollers, like Don Johnson, a famous professional punter, to bet $100,000 on a single hand. In Johnson's case, he won almost USD $6 million by playing Blackjack at Atlantic City's Tropicana casino in just one evening! Shortly before that, he had won similar jackpots at the Borgata ($5 million) and Caesars ($4 million). Not bad.
Online Blackjack
If you love playing Blackjack or are curious about trying it out, there are many online casinos that offer many variations of the game. Most online Blackjack games do not require anything more complex than a web browser to play, so if you're reading this article, then you probably already have all that you need to get started. Since the games are browser based, you won't need to download anything onto your computer either—meaning you can focus on enjoying the full Blackjack experience and nothing else.
In all online Blackjack games the computer will deal the cards for you, and you'll just need to click on the screen to either be dealt more cards or to compare your hand against the dealer's (and whatever other players you might be up against). Beat the dealer's hand without going over 21 and you win! Simple as that. The nice thing about playing Blackjack online is that unlike brick-and-mortar casinos, which often limit Blackjack punters to playing just one table and even betting on just one position at a table at a time, most online casinos let punters play several tables. This means your chances of winning (not to mention the thrill of the game) increase.
Live Blackjack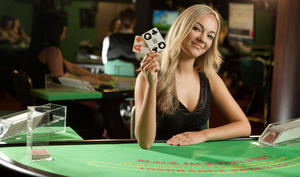 While online Blackjack is certainly a blast and can be very rewarding, the most enjoyable way to play Blackjack online is live Blackjack. What this means is that instead of playing against an automated computer program, you actually play against a real, live dealer. This makes live Blackjack much more engaging and interactive than conventional online Blackjack, and it also makes it much more random. Since a living and breathing (and let's not forget attractive!) human being will be dealing the cards, the Blackjack game will be almost indistinguishable from what you would normally find in one of the brick-and-mortar casinos mentioned above. Add in the fact that you can chat with not just the dealer but also the other players at your table(s), and you might just forget that you're still at home wearing nothing but your birthday suit.